If you came across this article, you're probably planning to attend the largest digital conference in the world, Web Summit 2020. Getting ready for an event of such a scale it's not an easy task and it definitely takes time, but don't worry, I will guide you through. In November 2019, I have attended Web Summit on behalf of Mediapark, as a business development manager. Based on that experience, I have prepared a list of 20 tips that will help you prepare for the Web Summit 2020.
Tickets
Buy your tickets early, you wouldn't want to pay 1000 Euro per ticket when you can actually pay 500 or even less. Web Summit encourages female attendees to join, therefore, they provide some significant discounts for them. Tickets can be found on the Web Summit website.
Registration
There are 2 options. The best one, in my opinion, is to register at the airport. It took less than 5 minutes and it requires your ticket (find it in the app) and your passport. The airport registration is available 2 days before the event. The other option is to register at the venue, this option is available strictly from the first day to the last day of the event. The lines were super long and most of the time people queue outside.
Web Summit App
Download the app and learn how to use it before the event. Check how to find people, use the app filter, a very handy tool that will allow you to narrow down the list of attendees by country, company name, field. Try scheduling meetings through the app and understand how the main feature works, contact scanning.
Schedule meetings
I recommend using Google Calendar in order to schedule all your meetings even though you've scheduled some of them in the Web Summit App. Provide enough information and location details to avoid any misunderstandings. Here's what I used: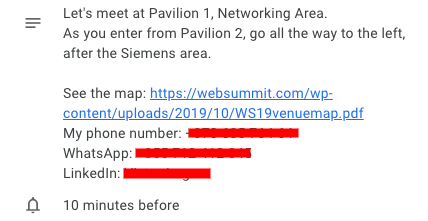 Do your research
Web Summit app, LinkedIn, Twitter.
Use the app in order to pitch people, text them, introduce yourself and your company, schedule a meeting.
Search for LinkedIn groups named "Web Summit Lisbon" or "Web Summit 2020", get in touch with people, find out whether both of you could benefit from a catch-up, schedule it.
Twitter, search for the tweets that use hashtags related to Web Summit, if some companies or individuals are interesting to you, leave a comment under their tweet and wait for them to get back to you.
Accommodation
The actual event takes place at Altice Arena, the Night Summit happens in the old town of Lisbon, and the distance between these two points is approximately 30-40 minutes by public transport.
Usually, the apartments near the arena get booked pretty early, and the ones that you will find available one month before the conference will most probably have a double price. Therefore, I would advise you to get a place in the old down so you can fully feel the vibe of Lisbon's streets.
Food
There are food points between each Pavilion. Queues are long, pretty long, so allow 45-60 minutes for lunch. Prices vary between 8 and 15 Euro. Try to eat only lunch inside the venue area, find cheaper and tastier places for breakfast and dinner outside the arena.
Bring a charger
There are charging stations in the networking areas. Whether you're using a laptop, tablet or phone, bring a charger or a power bank, you wouldn't want to run out of batter in the middle of a meeting.
Weather
November usually comes with a mix of sunny and cloudy days. Daytime temperatures are still mild early. On a few warmer days, temperatures in the afternoon may reach 25ºC (77ºF). However, November is on average one of the rainiest months in Lisbon, so I suggest bringing an umbrella.
Badge and bracelet
Keep your badge always with you and do not take off your wristband. Make sure you don't lose any of these, there is a certain fee that applies.
Study the venue map
The venue map can be found under the "essential information" on the Web Summit website. Study it, it will save your time.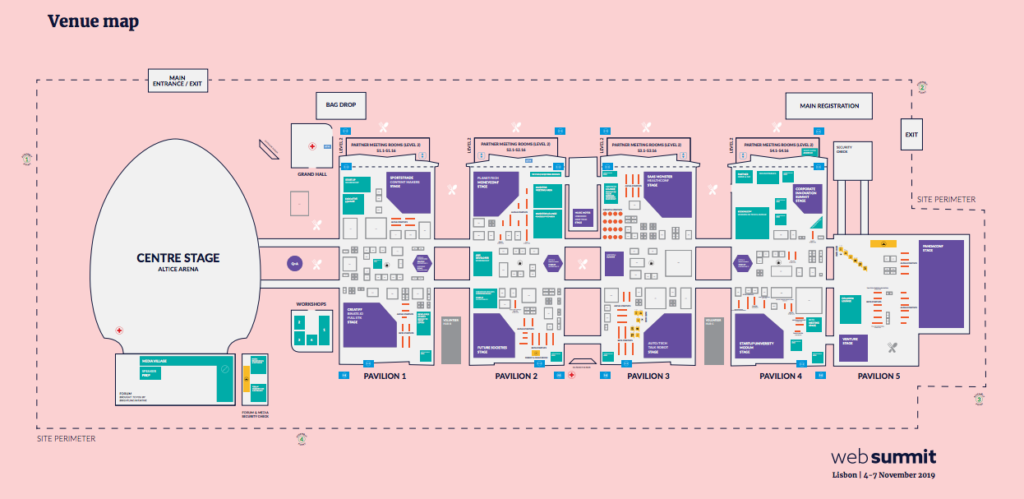 Networking Areas
If you go to the event for networking purposes, you probably wouldn't want to hold your laptop while standing and introducing your company to a potential client. Each pavilion has one or two networking areas, make sure you know where they are in case you need to schedule a meeting or give directions to someone.
Company presentation
Practice your speech, have all the necessary tabs opened. Aim to be able to introduce your company within 5 minutes.
Follow up
Solidify your connections by following up. Drop an email or a LinkedIn message on the same day, or, make sure to have a list of all those whom you met and send them follow up messages after the event.
Night Summit
Web Summit continues long after the talks have ended. The best networking happens after hours at Night Summit. Immerse yourself in our evening experiences and make incredible memories while unlocking the other side of Lisbon. Don't stay till very late, it's important to have a sober mind the next day.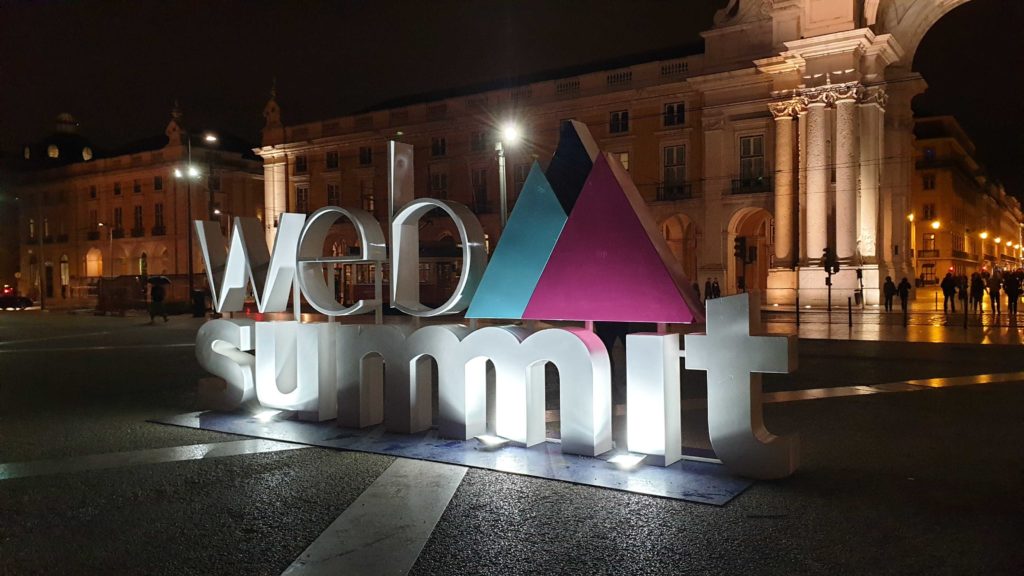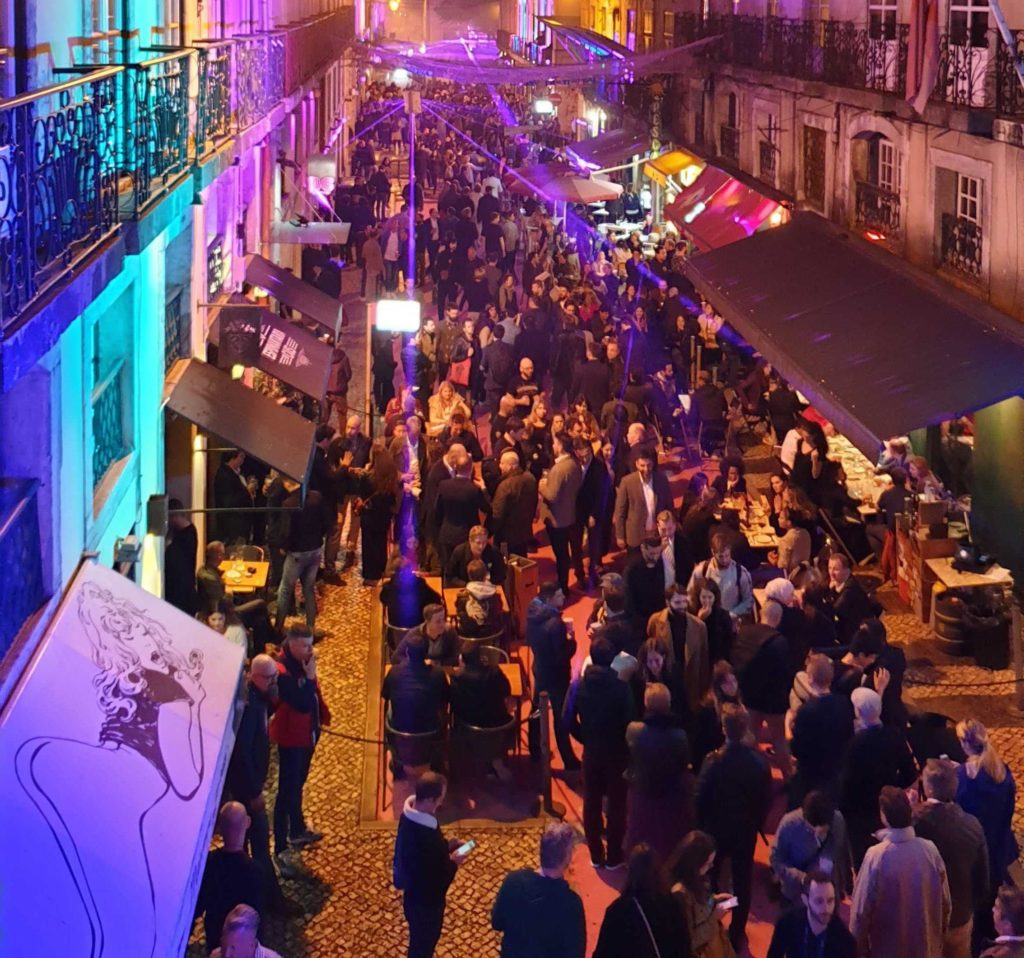 Don't be late for meetings
Everyone has a tight schedule, being 15 minutes late might cost you the entire meeting. And still, if it happens, apologize and try to re-schedule.
Prepare for the conversation
Spend some time to study about the people you're meeting. Ensure that you're having the right approach, prepare a list of questions you're curious about, entertain.
Create content
Use the event vibe to generate content for your social media accounts. Share Instagram stories, go live, tweet and take pictures for LinkedIn posts.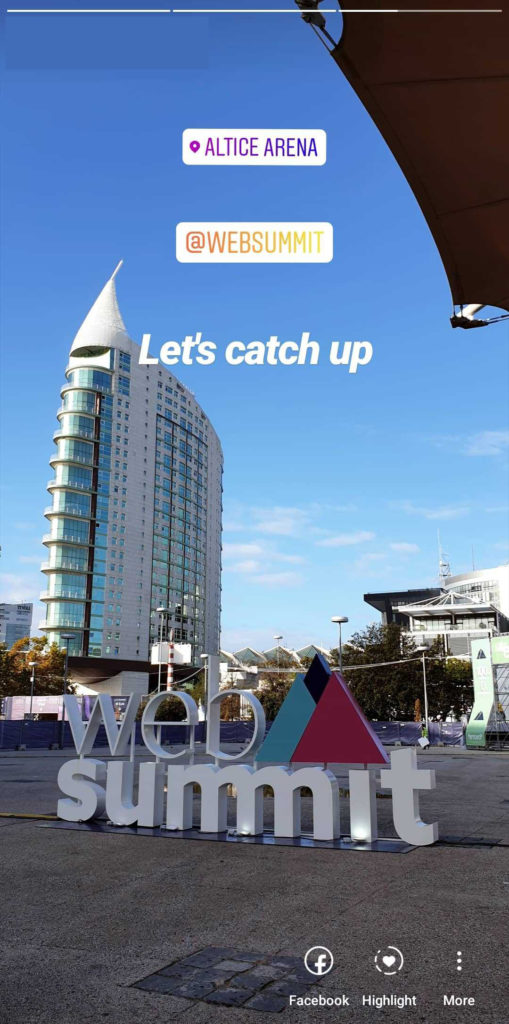 Business Cards
The app's main feature is the contact scanning, but the reality is that the app might get slow and work inappropriately at some moments, that's why I would suggest filling up one of your pockets with the good old business cards.
Enjoy Lisbon
If you're staying longer, there are a couple of places I would recommend checking out:
Tore de Belém
Padrão dos Descobrimentos
Sintra
The Triumphal Arch
Cabo de Roca
Boca de Inferno
Conclusion
I hope you will find this article useful, if you have some other tips to add on top, share them in the comments below and help others succeed at the next Web Summit. I'm excited to hear about your stories.
Don't wait too long, get two tickets for one right here.
Pssst. Would you like to meet me and other folks from Mediapark team next year in Lisbon? Let's discuss it, we would be more than happy to catch up with you. Let's make Web Summit 2020 amazing.