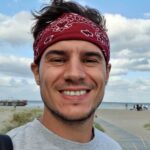 My career in tech started back in 2013, on the university benches

.

A year before graduating, I started working as a full-stack developer in a digital agency in Moldova. 

One year later, at the end of 2016, I have probably made the craziest move of my career

. I moved

all the way to Cambodia and started a digital business from scratch. I co-founded an agency called Smart Management Systems. I started hunting for clients in the area, as well as for talented students which I'd take for free 12 weeks internships and teach them the essentials of web.

A year later (end of 2017), after about 8 months of work, I have launched the first online grocery shopping startup in Cambodia. We opened simultaneously in two major Cambodian cities, Siem Reap and Phnom penh, and that I suppose, was the first time when I experienced something that I now call "stressphoria", a weird feeling when excitement and stress are always defining your mood and driving you forward.

Early 2019, after several months of working during the weekends, one of my university friends and I co-founded a digital agency in Moldova, called Genexiz. At that time, I was fully involved in the management of the 2 companies in Cambodia and partly involved in Genexiz, pretty fun.

June 2019, I was approached by the co-founder of Mediapark with the idea of merging Genexiz with Mediapark and setting up Mediapark Moldova. I have traveled to Moldova, then to Vilnius. About one month later, I joined Mediapark Group as a business development manager.
Another 3 months down the road (October 2019), we have officially kicked off the operations in Moldova. We had a modest but motivated team of 5 enthusiasts.
January 2020, we have acquired a local agency (cherrydigitalagency.com), and scaled up the team up to 30 talented people.
February 2020, we have integrated the Cambodian team into Mediapark. As a result, we ended up a pretty exotic location, Mediapark Cambodia.
July 2020, I got promoted to an Associate Partner position, more about 2020.
2022, planned to visit 8 countries. Three of them are done. Romania – you're wonderful. Cambodia – love your culture. Two different trips to Italy, several cities covered (Catania, Rome, Amalfi, Meta, Ravelo). Hungary, Poland, Austria & Portugal were added to the list as well. 7 out of 8, not bad 🙂
2023, Romania, Vietnam, Estonia & Turkey so far.
FOLLOW ME