A couple of months ago I read a book by Julien Smith, and I had no idea that this was about to lead me to an unforgettable experience. What's the one thing standing in between you and your dreams? Julian tells us is The Flinch. It's not the lack of knowledge or skill that holds us back, it's the hundreds of moments of self-doubt that paralyzes from taking action, but it does have to be this way.
One of my greatest fears used to be the heights, and for the last couple of years, I've pushed my self and fought with this, from trying the craziest roller coasters in the US to visiting and getting on top of the tallest buildings around the world. I got better, way better, but, the fear of getting closer to the edge, was still inside me.
I love the adventure, that's why, it was time for another challenge, hiking the Kelinking Beach. This hidden beach located in the village of Bunga Mekar, on the southwestern coast of Nusa Penida Island, Indonesia. An incredible place framed by towering, steep cliffs, deep turquoise blue waters further embraced by powdery white sand with the most amazing view like heaven on earth.
I was at the viewpoint, looking down and contemplating whether I should go or not, and, from time to time, I was meeting those sweaty, totally exhausted people, that kept telling me, "It ain't easy, it's scary, but it's definitely worth it." Decided, I'm going.
The walk down to the beach took around an hour and it was only secured with a poorly maintained bamboo rail. The first 10 minutes was a super steep rocky path with a bunch of ropes and sticks sketchily fastened to the limestone boulders on the edge of the Kelingking sea cliff. Every time I looked down, I felt more nervous and more excited at the same time, as I knew that I'm about to get the best possible reward for going through this.
When my feet touched the sand, I felt something indescribable, I took my wet clothes out as I was running towards the water. The view was simply stunning, it was worth all the sweat and fear, it was worth fighting the flinch.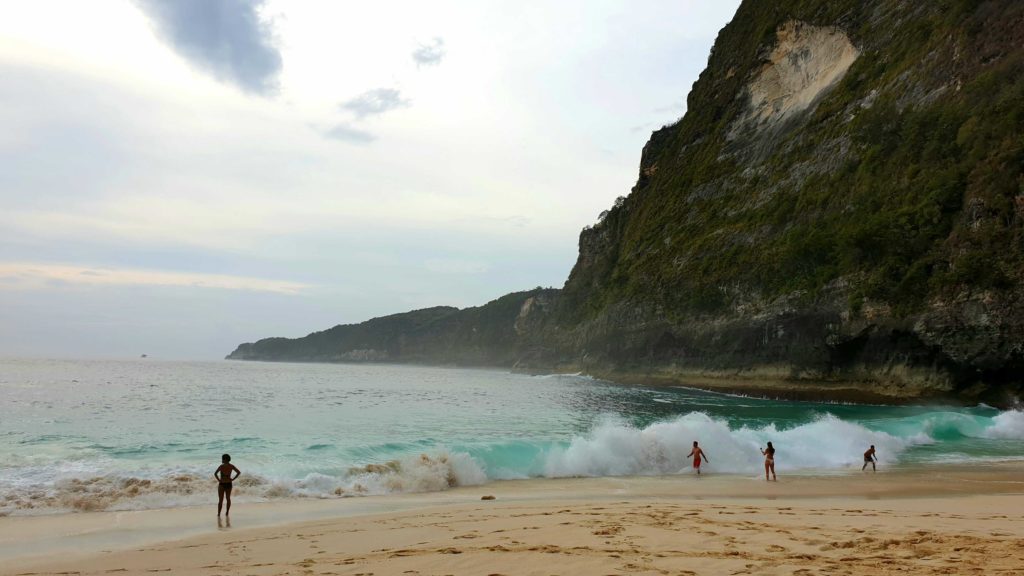 After some moments of pure fun, I started my journey up, leaving behind probably one of the most magnificent place on earth. I got lost on my way back home, riding the bike for about 2 hours on the dark roads of Nusa Penida, but, after what I've been through, this was just another reason to make that day a lifetime memory.