We are in 2018 and we all know about a major problem that covers Phnom Penh, the capital of Cambodia, and Siem Reap, we're talking about the TRAFFIC JAM. The people living in one of these cities might have noticed already that at the end of the day, between 5 PM and 7PM, the streets get paralyzed and it becomes really difficult to move.
Phnom Penh (June 25, 2018)
How can we solve this problem?
Let's imagine that approximately 25% of those who are stuck in the traffic are actually on the way to get their grocery shopping done, either for cooking dinner or for filling up the fridge for the next couple of days. Let's agree, this is actually very possible.
Now let's think what would happen, if, let's say, we'd be able to eliminate those 25% from the traffic?! Are we thinking about the same thing? Yes, the cities will get less agglomerated and it would become a lot easier to drive or ride.
Back in 2017 we thought about the traffic jam problem. We also predicted that it's just going to get worse and worse, so we decided to start Cambo Market.
Cambo Market is a perfect solution to a seamless and pleasurable grocery shopping experience in Phnom Penh and Siem Reap. It allows you to avoid paying for parking, standing in long queues and carrying heavy bags. With Cambo Market, everyone can get everything they need, when they need, right at their doorstep at no extra delivery cost.
No matter where you are, now you can always shop for all your food and grocery needs from the comfort of your home or office. It takes only a couple of minutes, it saves your valuable time, gas and money.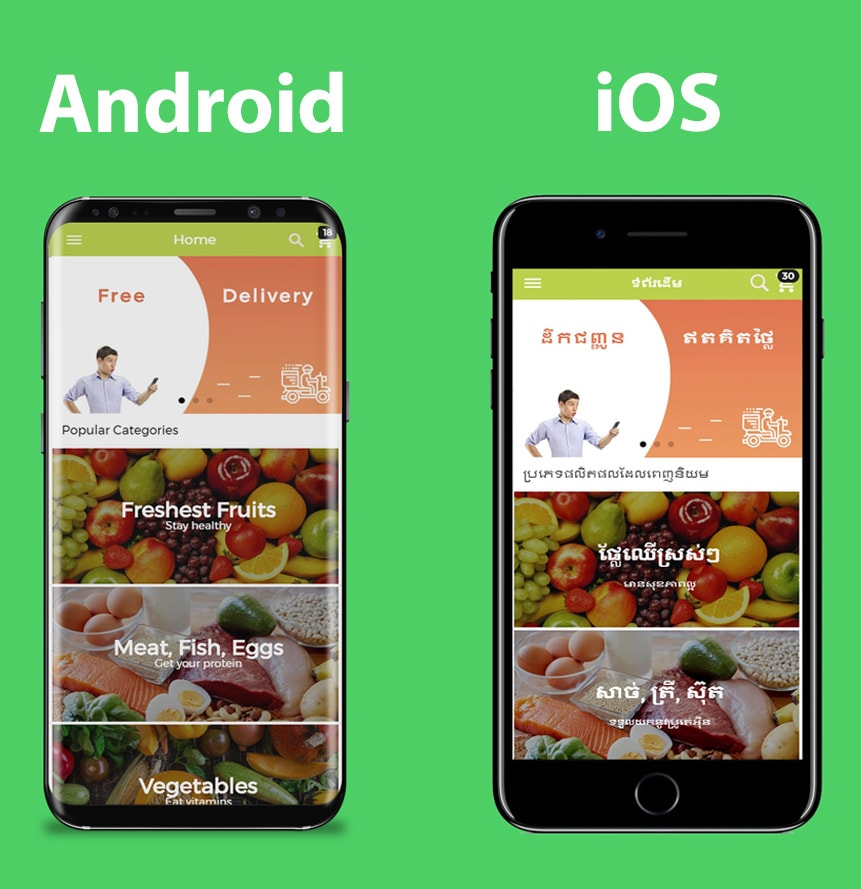 Let's wrap it up, with Cambo Market you can:
– Order your groceries online (more than 1000 items available);
– Get them delivered for FREE;
– Save your time, gas and money;
– Help your city 💓
Now you might be thinking, but hey, someone has done it already. Yes, we're not claiming that we are the first, but we are sure that we are the ones that put ourselves in the skin of the Clients and developed our services in a way that will suit everyone's needs.
How?
Well, there are a couple of simple things:
– First of all, let's not forget that we are in Cambodia, so our website and mobile app are fully translated in Khmer, which makes it a lot easier for Cambodians to use our services.
– Cambo Market offers 4 payment methods, WING, Pi Pay, PayPal, and of course Cash on Delivery, for those who are not that good in using digital payments.
– Great User Interface, we have simplified our website and mobile app as much as we could to make sure that our users will not have to give any extra clicks or taps in order to fulfil a payment.
Give it a try today and forget how is it like wasting your time while being stuck in traffic jam. Order everything easily using Cambo Market, choose your time and delivery place and keep doing your stuff while a dedicated team will deliver the goods at your doorstep.
Download Cambo Market
Website: www.cambomarket.com
Android App: Download in Play Store
iOS App: Download in App Store
Follow Cambo Market:
Facebook: https://www.facebook.com/cambomarketkh/
Instagram: https://www.instagram.com/cambomarket/
Twitter: https://twitter.com/CamboMarket
Contact Cambo Market:
Email: contact@cambomarkket.com
Phone Khmer: +855 975 807 777
Phone English: +855 712 412 345